How Can Someone Become A Professional Photography Business Logo Design Expert?
Undoubtedly, becoming a pro in any field requires experience, and the efficiency to bring in quality photography business logo design that resonates in the market.
We know how tiring the process to hire a professional photography designer will be, and if the designer isn't upto the mark then, people won't prefer to hire one on their own.
Anyhow, photography logo design requires creativity, and HQ quality end logo design because if something isn't upto the mark then, you won't create an impactful impression in the market.
Photography business logo design is a captivating and thrilling aspect of the graphic design field. The prospect of crafting a logo that could potentially be viewed by countless individuals is a compelling notion, and it's not surprising that the demand for photography logo design services is at an all-time high.
There are leading businesses that are offering photography services to the customers worldwide, and if the work isn't upto the mark then, there are rare chances that your prospects will convert to an audience.
Anyhow, for your ease, we've mentioned the best ways by which you can become a professional photography business logo designer.
Logomentary has been offering one of the best logo design services, along with other niches like, medical logo design, mascot logo design, real estate logo design, and a lot more.
Ready to explore it with us?
Let's get started then!
The Statistics Help Us Know The Importance Of Photography Logo Business Designing
According to statista, the photography and videography segment is expected to have a significant growth with a projected revenue of US $9.99bn in 2023 which was huge.
The growth ratio is expected to be huge with an annual growth of $8.60% resulting in a huge market result to be US$16.01bn by 2027.
Within the segment, in-app purchases (IAP) are also increasing, generating a US$5.62bn in the revenue ratio, however, the paid app revenue is however projected to be US$1.95bn.
Other segments like media advertising revenue in the Photo & Video segment are projected to reach US$2.41bn in 2022.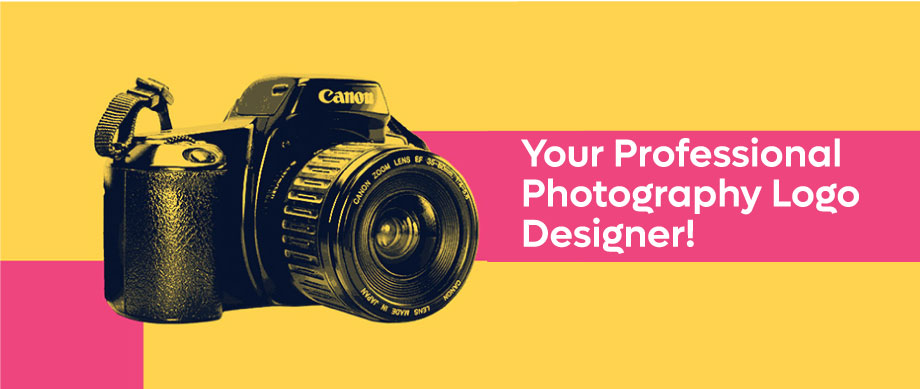 In terms of downloads, the Photo & Video segment is expected to see 26.40bn downloads in 2022, with an average revenue per download of US$0.38. China generates the highest revenue in this segment, with a projected revenue of US$4,850.00m in 2022.
Overall, the Photo & Video segment is a rapidly growing market with strong revenue potential.
Hence, photography is a highly growing industry and if someone plans to invest in that then, hands down they're doing a clever move!
You should hire a professional photography logo designer first, and then, after that, if you think that's expensive then, you can become a logo designer yourself!
Looking for ways to become a professional photography business logo design expert?
Here you go!
The Steps To Become A Top-Rated Photography Business Logo Design Expert
In this section, we are going to pen down the ways to become a professional, and topnotch photography logo design expert. From the initial planning to the final implementation, and designing of the photography business logo expert.
Learning The Basics Of Photography Business Logo
A custom logo design agency specializing in photography business logos needs to have a team of designers with a keen eye for creative and attention-grabbing design.
These designers should possess a firm understanding of the image or brand that the logo needs to convey, alongside an understanding of how various demographics respond to some of the most iconic and popular logos ever created.
The responsibility of a logo designer in this field is to convey numerous (often complex) ideas in a simple, and frequently non-verbal package. The best logos create an immediate and visceral impact on whoever sees it, and logo designers are responsible for creating exactly that response.
More technically, a logo designer in this agency should be familiar and comfortable with both graphic design and the software used to create it. Typically, this means a strong working knowledge of Adobe Illustrator and Photoshop, Corel Draw, Jeta Logo Designer, Apple Motion, and other graphic/logo software. Along with this technical knowledge is a close attention to detail — far greater than in most other professions.
A custom logo design agency that specializes in photography business logos must also understand social, cultural, and industry trends — and avoid them at all costs. That's because logos usually need to be timeless, lasting far longer than whatever trends are popular at the time.
Understanding these trends will be particularly important because logo designers also need to be visionary — at least to some extent. That's because a logo designer's clients often won't actually know exactly what they're looking for.
It is the responsibility of the logo designer to explain their vision for the client and to do so in a way that helps the client understand the vision and be excited about it.
If you know, their research a bit that the field of logo design is creative, whether its a custom logo design, or a casual photography logo design, everything requires precision, concentration and creativity.
Among the various directions that a graphic designer can take, logo design can be highly competitive and requires a great deal of original and creative thought, as well as confidence in one's abilities. This means having a true passion, as well as the ability to learn throughout one's career.
Learning Design Practices, Tools, Pattern
Designing logos for a photography business can be a challenging field that requires a combination of natural inclination, passion, and formal education.
Passion is essential for this career field, particularly because logo designers may sometimes clash with clients while trying to serve them. Of course, natural talent and passion can only take you so far. At some point, formal credentials become increasingly essential.
In terms of formal education, a degree in graphic design can greatly contribute to the success of a logo designer. Additionally, proficiency with graphic design software like Adobe Illustrator is essential.
Other valuable skills include an understanding and appreciation for typography, as well as the ability to consistently think outside the box while remaining relevant to the current and developing trends in the photography industry.
A degree in business or communication can also be useful since it helps designers understand their clients and their position in the market. However, an impressive portfolio that showcases a designer's abilities through their accomplishments is perhaps the most crucial "credential."
According to the US Bureau of Labor Statistics, the job growth for graphic designers, including those who specialize in logo design, is expected to be about three percent through 2028. The average median pay for graphic designers was $50,370 in 2018.
However, since graphic designers are expected to face strong competition for jobs through 2024, earning a degree and gaining work experience through internships will play a vital role in getting hired and determining the pay scale.
In the photography business, a logo designer's success hinges on creating a unique and visually appealing logo that speaks to the brand's message and resonates with the target audience.
Building Strong Photography Business Logo Portfolio
Building a strong portfolio is crucial for those seeking a career in photography business logo design. It showcases your ability to deliver satisfactory results to clients and proves that you have the skills and talent required for the job.
Creating a robust portfolio may be challenging initially, but it's worth the effort. You can start by taking on small projects and showcasing them in your portfolio.
In addition to a portfolio, it's also essential to build a personal brand that reflects your unique style and approach. A personal brand helps build trust with clients and makes you more credible in their eyes.
You can do this by developing a signature design style or working with a particular niche or type of photography business logo.
Networking is also essential in this industry. Whether you're a recent graduate or an experienced designer, building industry connections can help you land new clients and create opportunities to showcase your skills. Attend industry events, join online forums, and connect with other professionals in the field to expand your network.
Remember, building a career in photography business logo design requires a combination of talent, passion, and hard work. With a strong portfolio, personal brand, and industry connections, you'll be well on your way to creating successful and visually appealing logos for your clients.
Seek For Your Peers Feedback
Seeking feedback from your peers can be an invaluable part of the logo design process for your photography business. Getting input from others in the industry can help you gain a new perspective and identify areas for improvement.
Identify peers who you trust and respect. Look for people who are knowledgeable about graphic design and branding, and who are willing to provide constructive criticism.
Be specific about what you want feedback on. Provide your peers with a clear brief outlining the goals and objectives of your logo design, as well as any specific areas you'd like feedback on. Ask for both positive and negative feedback. While it's important to hear what you're doing well, it's equally important to identify areas for improvement. Ask your peers to be honest and direct in their feedback.
Be open-minded and receptive to feedback. Remember that feedback is an opportunity for growth and improvement. Try not to get defensive or dismissive of criticism. Use feedback to iterate and improve your design. Take the feedback you receive and use it to refine your logo design. Don't be afraid to make changes and try new things.
Don't Forget To Use Optimal Color Scheme
For a successful photography business logo design, it's important for designers to have a deep understanding of color theory.
A thorough knowledge of the color palette and how different colors interact with each other is essential for creating effective designs that use color effectively. Art students often receive extensive training in color theory to develop this knowledge and expertise.
Having proper knowledge and a sense of color is a crucial skill that every designer should possess to achieve success in their design journey.
For instance, selecting the right colors while creating a logo can help in portraying the potential of the company, as colors communicate messages. Thus, analyzing the set of logo colors can help designers to efficiently implement the appropriate colors in their designs and streamline their design process.
Moreover, color harmony and the balanced arrangement of colors are essential skills required to create good design. This is because colors play a significant role in human psychology, and a lack of color harmony may negatively impact the audience's perception of the design.
Therefore, having a strong sense of color is essential for designers who want to achieve success in their field. Logomentary offers the best logo design services, incorporating a proper balance of colors to ensure an eye-catching and harmonious design.
Why There Is An Importance Of Attractive Photography Business Logo Design?
Design is a form of communication through visuals, and logos play a vital role in communicating a brand's identity. Aspiring logo designers in the field of photography business logo may come from various backgrounds, some waiting to start their design careers, and others waiting to reach optimal success.
According to the American Institute of Graphic Arts, design involves the creative and functional understanding of seven visual elements: color, space, line, texture, form, size, and shape, and the ability to express them effectively.
While a degree in design may not be mandatory for becoming a logo designer, many professionals in the field have completed design education to enhance their skills. Additionally, honing your design skills beyond what you already possess is crucial for success as a logo designer, especially in the competitive photography business industry.
If you're looking for the best logo design services for your photography business, Logomentary is an excellent choice. They offer top-quality logo design services that can help your business stand out from the competition.
With their expertise in visual communication and branding, they can create a unique and memorable logo that accurately represents your photography business's identity.
FAQs
Q: What is a photography business logo?
A photography business logo is a graphic symbol or brand picture that represents you to your audience. It should be visually appealing and should present it in a compelling way.
Q: Why is a photography business logo important?
A photography business logo design is very important because it serves to be a representation of your brand, and helps you connect with your target audience. You can even compete with your competitors with a strong brand appearance.
Q: What should a photography business logo include?
You can include multiple things while designing your photography business logo design, like, a camera, shutter, colors, layouts, or even a camera with some simple colors. The more creative you will think, the more people will connect with your brand persona.
Q: What makes a good photography business logo?
Creating a great photography business logo requires simplicity, memorability, and uniqueness. It should be instantly recognizable and effectively convey your brand identity to your target audience. Moreover, the logo must be scalable and adaptable to different mediums, including social media, websites, and print materials.
Q: Should I design my own photography business logo or hire a professional?
If you have the expertise and relevant years of experience to design a logo then, hands down, you're the best one to design your photography logo design. However, if you're not, then you have to connect with someone else, and ask them to design it for you. It might cause you some time, but once it's done, you'll be at some other level of expertise.
Q: How much does a photography business logo cost?
The cost of designing a photography business logo can vary on multiple factors like the complexity, creativity, and the animation if required in the logo design. If the number of revisions are there then, the costing will also increase. For instance, the initial cost for photography logo design is somewhere between $500 to $1,000 however, the price will escalate.
Q: Can I trademark my photography business logo?
Yes, of course! You can trademark your photography business logo to protect it from copyright claims and making competitors defeat if they're trying to copy your design layout. Also, if you want some more information then, start reading about laws and integrate with your photography business.
Q: How can I use my photography business logo effectively?
You can utilize your photography business logo design effectively by using all the platforms and marketing collaterals like your website, pitch deck, company profiles, social media platforms, business cards, and service pages. In this way you are creating credibility in your designs, and people will get to know you based on your concerns.