How much does it cost to hire an affordable website designer?
Hiring a website designer is a crucial task, especially when you're the one running the business, and plan to have a well-managed, and designed website for your business.
If you don't have a technical background then, you've to be the one running the whole recruitment process and hiring the most potential website designer for your business, not to forget affordable website designers.
There are leading website design companies that offer affordable website designers to hire, and give you the chance to work with them on a one on one preference.
But, wait! Do you rely on their hiring process? Do you know how much it costs to hire a website designer? How much will a website designer cost for designing a project?
Anyhow, for your ease, we've covered up the process to hire a website designer in one of our blogs, but now we're going more in-depth, that is, disclosing the costing for hiring a website designer.
As always, before jumping in to the main topic, we will learn about some of the facts that are necessary for anyone to know before going in depth of costing.
Let's get started then!
The Jobs Opportunities For Website Designers In The United States
According to statista, around 200,000 web developers and digital interface designers were recorded in the United States in 2022. It is projected that by 2032, this figure will increase to over 229,000.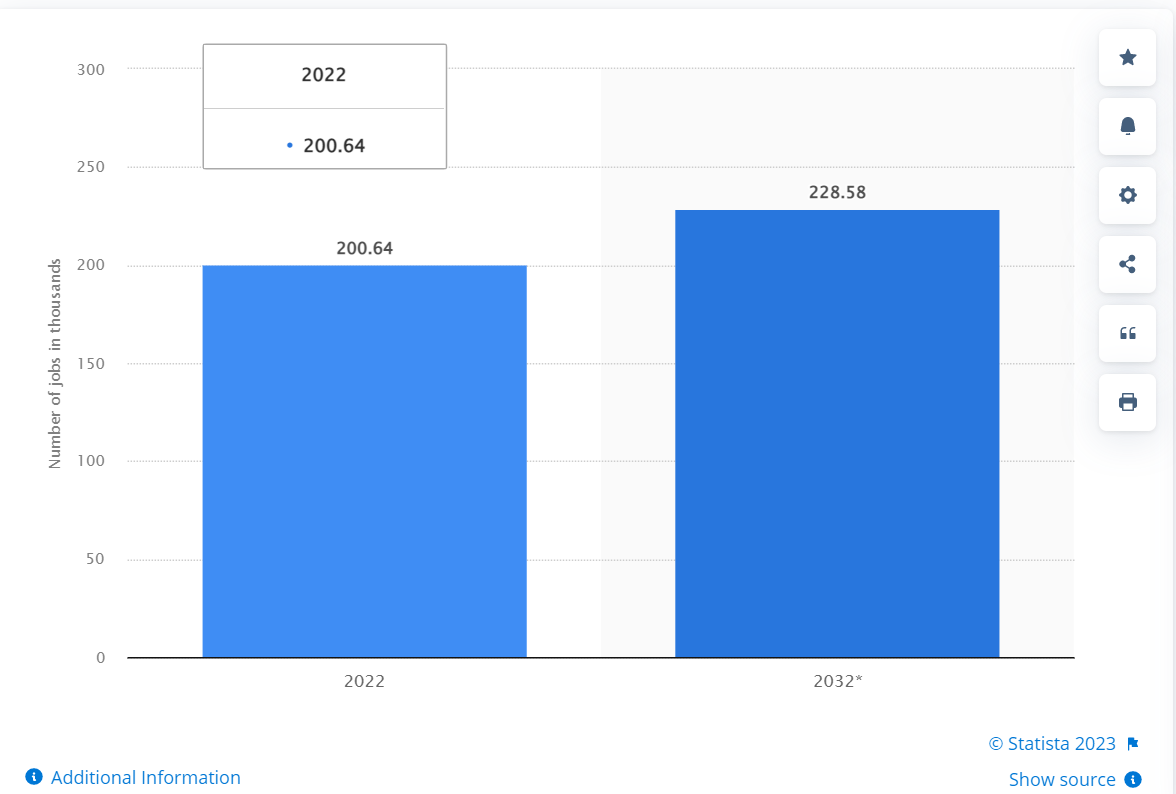 These professionals are accountable for designing and creating websites or interfaces, encompassing various elements such as graphics, font type, layout, and others.
Hence, here it's very much clear that hiring a professional website designer is crucial for any business, and with the passing time, the on-demand hiring for website designers will increase massively!
Anyhow, as we're now done with the basic discussion, let's first learn about the stats that are necessary for hiring a website designer - I meant to say, the cost for hiring a website designer.
How much does a website designer cost?
The typical cost for hiring a website designer goes around $40 to $50 per hour depending on their years of experience. However, if you look deeper then, you will understand these costs are nothing!
A good website design can add value to your business, however, if you're ready to bear the cost then, you will see wonders!
DIY Website - Is It A Win Win Situation?
Do it your way! Yes you read it right.
Are DIY websites a good idea, or is it better to hire a professional web designer? While there are advantages to building your own website, there are also some downsides to consider.
On the plus side, designing your own website can save you a lot of money. Instead of paying a professional, you can allocate those funds towards other business expenses.

Additionally, as a business owner, you likely have a clear vision of what you want your website to look like and what information you want to include. By designing it yourself, you can ensure that your vision is accurately captured.
However, there are also some disadvantages to consider. DIY website builders like Wix and Squarespace can provide a short-term solution, but they may not be designed to last in the long run.
There's a good chance that you may need to make changes or restructure your website down the line, which can be time-consuming and potentially costly.
You know many writers ask for money as per their interest, and experience and no one will ever call themselves bad at what they're hired for. It's the responsibility of the hiring personnel to cross check their profile and then decide are they a good add-on to the company?
Moreover, even with these website builders, mistakes can still be made if you lack the necessary knowledge and experience.
Professional web designers are experts in their field, and they know how to create websites that are functional, visually appealing, and user-friendly. They have a keen eye for design and understand the technical aspects of website creation.
While designing your own website may save you money in the short term, it's not always the best decision for the long-term success of your business.
Professional web designers have the skills and expertise to create a website that will help your business thrive. It's important to consider your options carefully before making a decision.
So, if you think DIY websites are not a good move for you then, there is one more option to the rescue! Yes, you are guessing it right. It's about hiring a freelancer affordable website designer.
Hiring A Freelancer For Website Designer
In this section, we are going to list down the designers for hiring a freelancer website designer to avail affordable affordable website design services.
Ready to unlock the true potential of website designing by hiring a freelancer for your ease? Here you go!
Investing in a professional website designer may come at a higher cost, but the benefits are well worth it. Freelance web designers possess the knowledge and expertise to create a user-friendly website that is optimized for engagement and success.
Here are some common elements that freelance web designers incorporate into websites to keep users coming back:
1. Establishing Credibility and Trust:
Users need to feel confident that the company they are interacting with is trustworthy. Freelance web designers often include credentials such as government approval or third-party validation on the website to establish this trust.

2. Incorporating Information:
Skilled web designers incorporate information and media such as videos to showcase how a company's products or services work. This helps users understand the value and benefits of the offerings.
3. Including Contact Information:
Having accessible contact information on a website is critical. Freelance web designers ensure that contact details are prominent and easy to find, increasing user trust and satisfaction.
4. Communicating the Value of the Product/Service:
A professional website designer will highlight the benefits and value of a company's offerings, communicating how they can save users time, money, or improve their lives in other ways.
5. Showcasing the Unique Selling Proposition:
Freelance web designers take the opportunity to showcase what makes a company special, setting it apart from competitors. This can be achieved through unique design elements, messaging, or content.

Here you can understand the importance of hiring a freelance website designer. The cost for hiring a freelancer goes somewhere between $30 to $150/hour. Also, the price will escalate if the experience of the freelancer is more than expected.
Other Factors That Affect The Cost For Hiring A Freelance Website Designer
When deciding whether to hire a freelance web designer, there are several factors to consider that can impact pricing. Understanding these factors can help businesses make informed decisions about the investment required to create an effective and visually appealing website.
Experience Level:
Freelance web design prices can vary based on the designer's level of experience. While new web designers may charge lower rates, their skills may be more limited, making them better suited for simpler tasks. More experienced professionals, however, are better equipped to handle complex design challenges and may charge higher rates accordingly.
Design and Development:
Freelance web designers and web developers specialize in different aspects of website creation. Web designers focus on the aesthetics of a website, while developers build the functional components. Businesses may need to hire both a designer and a developer to ensure all aspects of the website are covered. However, some professionals may possess both design and development skills, and their rates may reflect this additional expertise.
Considering the investment required for a freelance web designer is an important decision. While new designers may offer lower rates, businesses should consider the potential limitations of their skills. Hiring an experienced professional can ensure a more established and visually appealing website that meets business goals.

Now let's start with discussing the cost for hiring a website designer from a web design agency like Logomentary.
The final verdict on this is to hire a professional website design company to get your website design done and dusted!
Here are some of the best advantages you should know before hiring a website design agency for your affordable website designer.
The Benefits Of Choosing A Professional Website Design Agency
When it comes to hiring a web designer, the options can be overwhelming. However, hiring a web designer through a marketing agency has a number of benefits.
These professionals bring their marketing expertise to each project they undertake, ensuring that the content they create is optimized for search engine rankings.
Furthermore, web designers working with a marketing agency are able to produce high-quality, original content that can be hard to find elsewhere.
They are also trained to provide client training after designing a website, ensuring that clients are able to use and make changes to their site without issue.
Perhaps most importantly, professional web designers are able to quickly and effectively fix any issues that arise with your site. This saves you time and frustration, and ensures that your site stays functional and effective over time.

By choosing to hire a web designer through a marketing agency, you can be confident that your site will be in good hands from start to finish.
Hence, there are different factors that affect the cost for hiring a website designer. However, we would suggest the website designer should have hands-on experience with the quick understanding of tips and tricks for creating a web solution.
The Dark Side Of Working With An Affordable Website Company
While working with a marketing agency for website design can bring numerous benefits, it also comes with a higher cost compared to other options. However, this cost varies depending on the project's scope and complexity, including the number of pages, commitment level, and client training required.
When looking for an affordable website design company, it's crucial to understand the payment structure. Web designers can charge either an hourly rate or a flat fee, with the latter being a more preferable option for most business owners.
Reliable agencies like Logomentary provide an all-inclusive rate, so clients know what to expect. However, expanding the project outside the agreed scope can lead to additional costs.
Despite the higher cost, working with an affordable website design company through a marketing agency can be beneficial.
The designers have both marketing and web design skills, allowing them to create content optimized for search engines and deliver high-quality writing.
Moreover, they offer client training and can address any issues that arise, saving you time and effort.
Ultimately, when considering an affordable website design company, be sure to discuss your budget and project scope upfront to avoid surprises later on.
Working with a marketing agency can be an excellent investment in your business's online presence, as long as you know what you're getting into.
Are You Clear With The Cost Of Hiring A Website Designer?
We hope you know the cost for hiring a website designer now. However, to bridge the gap between quantity, and quality you've to take on challenges, and bring in results that will make you stand out from your competitors. After knowing the cost for hiring a website designer, you should make achecklist for training your website designer, as per their interest.
Here is a quick overview for your ease;
Hire a freelance website designer if;
You need a simple website built quickly and efficiently.
You have a limited budget and want to save money on website design.
You have a clear idea of what you want your website to look like and can communicate this effectively.
You don't need ongoing website maintenance and updates.
You want a personalized approach to website design with direct communication with the designer.
You want to work with someone who specializes in a particular area of website design.
You want to support small businesses and freelancers.
You have a smaller-scale website project that doesn't require a full team of designers.
You are comfortable taking on some of the website design responsibilities yourself.
You value a more flexible and agile approach to website design and development.
Hire a website design agency for your professional website designer if;
You need a complex website with multiple features and functionality.
You have a larger budget and are willing to invest in high-quality website design.
You want access to a full team of designers and developers to ensure a comprehensive approach to website design.
You need ongoing website maintenance, updates, and support.
You want a professional design that aligns with your brand identity and marketing strategy.
You need assistance with content creation and SEO optimization.
You want a seamless and hassle-free website design experience.
You value the expertise and experience of a reputable web design agency.
You need a website that can handle high traffic and provide a seamless user experience.
Lastly, do the DIY website trick if;
You have a tight budget and want to save money on website design.
You have basic website design skills and knowledge of website builders or CMS platforms.
You have a simple website project that doesn't require a lot of customization or advanced features.
You enjoy learning new skills and taking on challenges.
You have a lot of time and patience to devote to website design.
So the choice is yours! Whether you make things profitable for yourself, and wait for others to gain the competitive edge!
FAQs
1. How much does it cost to hire a website designer?
The cost of hiring a website designer can vary widely depending on a number of factors such as the complexity of the website, the designer's level of expertise, and the location of the designer. Generally, website design services can range from $1500 to $2000 for a basic website to $3000 for a more complex site with custom features. Additionally, ongoing maintenance and updates may also incur additional costs.
2. Is it necessary to hire a website designer?
While it is possible to design a website yourself using website builders or templates, hiring a website designer can be beneficial for several reasons. A professional website designer can bring expertise in user experience design, web development, and digital marketing to help create a website that is both aesthetically pleasing and functional. They can also ensure that the website is optimized for search engines and mobile devices, which can improve its visibility and accessibility. Ultimately, hiring a website designer can save time and effort while delivering a more polished and effective website.
3. Why choose Logomentary for hiring a website designer?
Logomentary offers a team of experienced and skilled website designers who are dedicated to creating high-quality and user-friendly websites for businesses of all sizes. Our designers have a deep understanding of user experience design and web development, and they work closely with clients to understand their needs and goals. We also offer a range of pricing plans to fit different budgets and provide ongoing support and maintenance to ensure that the website remains up-to-date and optimized.
Can I do the website design myself?
Yes, it is possible to design a website yourself using website builders or templates. However, it is important to consider your level of expertise and the time and effort required to create a professional-quality website. Designing a website yourself can be a good option for those with limited budgets or simple website needs, but it may not be the best choice for those looking for a more complex and customized website. Ultimately, the decision to design a website yourself or hire a professional website designer will depend on your specific needs and goals.