Elon Musk Steps Into The AI Business.
Elon Musk, the billionaire entrepreneur and CEO of Tesla and SpaceX, has announced the launch of a new artificial intelligence (AI) company called xAI. The company's stated goal is to "understand reality" and to develop AI systems that are "safe, beneficial, and aligned with human values."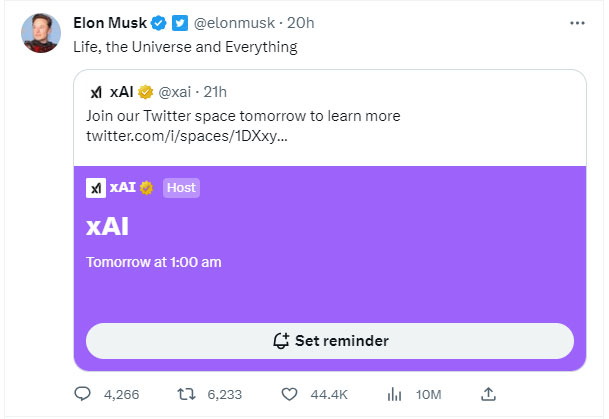 xAI is separate from X Corp, the umbrella company of Twitter, which is also owned by Musk. However, the company is expected to work closely with Tesla and Twitter, as well as other companies in the AI industry. Musk is now openly competing with its competitors Bard, and Bard AI on a larger scale. The xAI team is composed of 12 engineers and researchers, many of whom have worked at other leading AI companies, such as Google, OpenAI, and Microsoft.
Musk has been a vocal critic of some aspects of AI development, and he has expressed concerns about the potential dangers of artificial general intelligence (AGI). However, he has also said that he believes AI has the potential to "solve some of the world's most pressing problems." He also tweeted: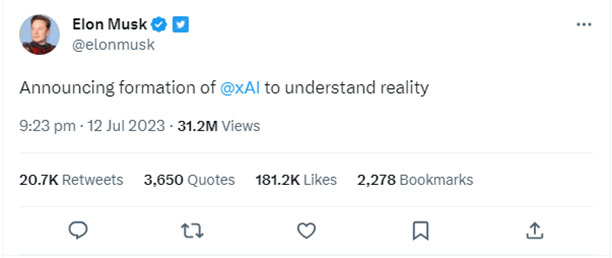 The launch of xAI is a significant development in the AI industry. The company's mission to understand reality and to develop safe and beneficial AI systems is ambitious, but it is also one that is shared by many AI researchers and technologists. It will be interesting to see how xAI's work progresses in the years to come.
Some of the key questions that xAI is likely to address include:

People Commented saying:
How can we ensure that AI systems are aligned with human values?
How can we prevent AI systems from becoming too powerful or dangerous?
xAI's work is likely to have a major impact on the future of AI. The company's findings and insights could help to shape the development of AI systems that are safe, beneficial, and aligned with human values.